New Years Eve Pack Horse Adventure: 8-day tour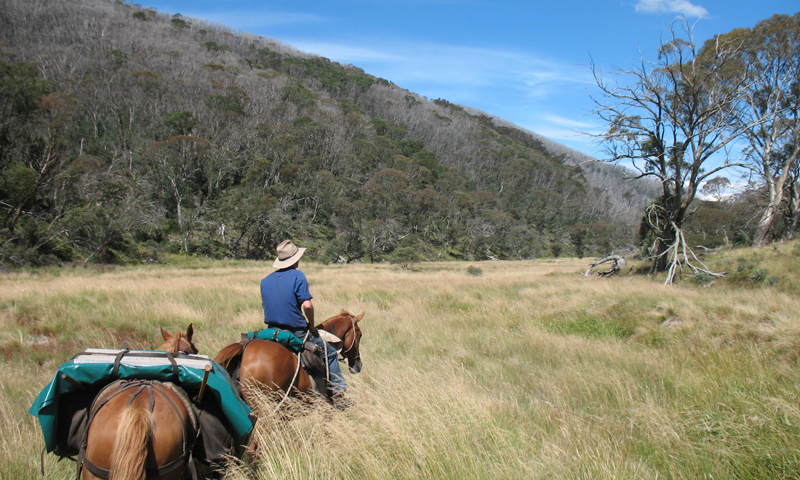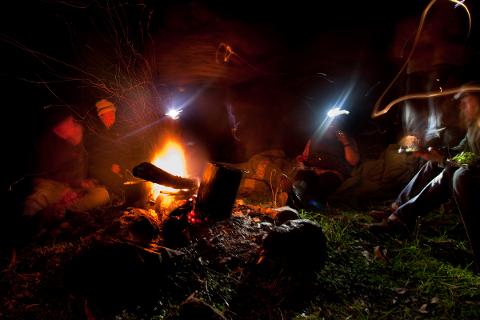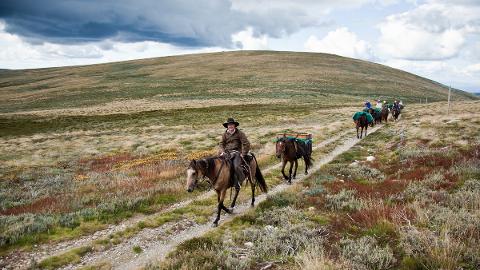 Duration: 8 Days (approx.)
Product code: NY5dF
Join our New Years Eve expedition and welcome in the new year on the Bogong High Plains. We camp at some Jack's hideout, climb Mount Fainter and traverse the aptly named Pretty Valley. Spend two nights camping at the wild and remote Young's Tops, home of the brumbies. We visit High Plains Creek on New Years Day for a dip in the pristine waters below the waterfall. Wind up the week and enjoy a testimonial dinner back at Spring Spur 'your country home away from home", swapping your beloved swag for a comfy bed.

Bogong Horseback Adventures' pack horse expedition program commences annually in the late spring when the peaks of the Victorian High Country shake off their winter snows and alpine life starts to stir. For thousands of years the Aboriginal peoples of the surrounding country embarked on their annual migration to the High Plains, and until recently the mountain cattlemen, following their time honoured ways pushed their cattle up to the 'tops'. Along with gold seekers, bushrangers, and early adventurers, they all helped create a rich heritage, woven into the rugged fabric of the High Country. Much of the High Country remains un-roaded today, and packhorse expeditions offer a traditional and practical means of exploring this vast landscape. The horses are a feature of this expedition, each of them our own bred and trained mountain horse, expertly matched to the rider. Each day the camp is packed up, loaded onto the packhorses and the journey continues. Riding is between 15 to 25km per day with opportunities for loping canters across open plains. Camps are selected for their beautiful settings, some in traditional stock camps featuring huts, but often secluded bush camps maintained by Bogong Horseback Adventures. With swags rolled out dinner is prepared and enjoyed around a warming fire, with a cold beer, a local wine, and a meal prepared from local fresh produce on the coals. All expeditions include a night before and a night after at Spring Spur, where you can join the family for a meal and enjoy your comfortable en-suite room.

INCLUSIONS
Experienced, knowledgeable guides
Spring Spur accommodation before and after the expedition
All group camping equipment
Quality locally bred and trained horses
Quality Australian saddlery
All meals as per the itinerary
Beer and table wine with evening meal
Helmets and oilskin coats
National Park fees
First aid and emergency communications
Packing lists and travel information

OPTIONS
Transfers to and from Albury NSW

ITINERARY
Day 1
Arrive at Spring Spur homestead afternoon/evening
Evening Supper - Spring Spur Accommodation
Day 2
Pre-ride information, horsemanship basics in the yards at BHA, and packing check. Afternoon ride into Bogong Creek for camp.
B L D - Camping
Day 3
Climb Timms spur for some spectacular views of the High Plains, distant ridges, and valleys of North East Victoria, find Batty's 'lost camp' below Mt Nelse.
B L D - Camping
Day 4
A chance glimpse of the Bogong Brumbies at 'Fitzies Hut' before riding along the edge of the tree line to camp at Ryders Yards.
B L D - Camping
Day 5
Leave Camp set up for a day of exploring the remote Young's Tops and a visit to High Plains Creek Waterfall.
B L D - Camping

Day 6
Move camp across Pretty Valley and onto Mount Fainter to find camp just below the tree line at Bogong Jack's hideout.

Day 7
Last day riding over Big Hill and home to Spring Spur.
B L D - Spring Spur Accommodation
Day 8
Mid-morning checkout.
B